11th Annual Earth Day April 17, 2016
LOCATION: On the banks of the Maumee
June 6, 2016 UPDATE
Thanks to YOU, we planted all 380 trees on EARTH DAY!
Officially counted 262 volunteers who worked between 525.9 – 528 hours on Earth Day ALONE with between 261 – 268 people signing in-and-out to log hours for the public event held on April 17, 2016.What species of trees did you plant? CLICK HERE
We had so much coverage RE: Earth Day and the Riparian Buffer Initiative!
Save Maumee's 11th Annual Earth Day was promoted by many other groups
American Rivers, Hoosier Environmental Council, Community Calendar, National Public Radio,
We could not even keep up with the blogs & pictures & mentions!
…and because of YOU ~
Save Maumee made it into Sustainable Indiana 2016 BOOK! 
Explore Sustainable Indiana; Celebrating Hoosier Solutions to Our Climate Crisis
 with 2 pictures and 1 & 1/2 pages of Save Maumee INFO! Find a copy to purchase for $10 here! 
http://sustainableindiana2016.org/shop/
Earth Day has always been Save Maumee's largest event! 
Are you looking for an adventure.  Looking for something that is not the "average day?"  COME FIND US! Save Maumee likes to do work where others cannot easily see progress, but know we always have water quality improvements in mind!
FREE EVENT, but you may want to bring your checkbook for added fun for the whole family!
Learn how to property plant a tree: 11am
Food NOT Bombs to feed volunteers
Tie-dye a t-shirt (while supplies last)
Face painting 12:30-3
The Renz Brothers 11am-12pm to provide live entertainment for our listening pleasure
3:00pm – Soarin' Hawk, Raptor Rehab will be bringing some of our feathered friends
Other Happenings
* Plant Happiness to assist tree plantings
* Old Crown Coffee will be served
* Snacks from Three Rivers Health Food Shoppe
* American Rivers, trash bags
* Fresh Thyme food
* Sports & Spirits will deliver pizza
* Young Urban Homesteaders vending plants & seed & food
* Hoosier Re-Leaf will be onsite for tree expertise
Save Maumee Riparian Buffer Initiative will be planing 1,390 trees in the drainage areas of the Maumee that are considered "most impaired," according to the Upper Maumee Watershed Management Plan.
SPECS FOR BULLERMAN DITCH PROJECT AREA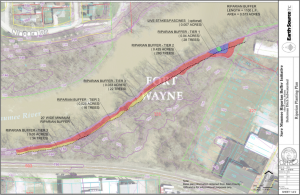 The areas that are in desperate need of more trees and plants along perennial streams are
1) Bullerman Ditch (below)
2) Six Mile Creek (map)
3) Trier Ditch (map)
Entire Map of Maumee Basin in Indiana
Bullerman Ditch Subwatershed is Earth Day's project area for 2016!  See if we will be working in your watershed!
Save Ma_mee ~ The only thing missing is U!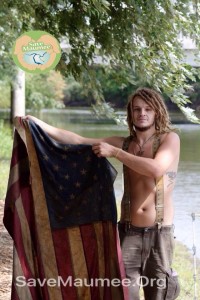 This is our first project that will be completed through the federal Great Lakes Restoration Initiative (GRLI) and U.S. Forest Service grant. Save Maumee and the USDA are equal opportunity providers, employers, and lenders. CLICK HERE for full nondiscriminatory policy.