ALL Save Maumee activists have been unpaid VOLUNTEERS since the birth of this grassroots movement. First Board of Trustees were voted-in by Save Maumee Members in May 2012.
We have done the work on our good word alone!  Now we are asking for your help through your purchase of a membership!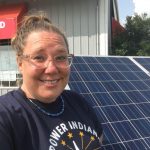 President
Andrea Hamman 
(260) 908-1759
President Term 2021-2023
(elected November 4, 2020)
Elected as Vice President Nov 4, 2019
Andrea Hamman has always wanted to make the world wonderful around her, so after receiving a Bachelor of Social Work from Ball State University, with Minors in Sociology, Counseling Psychology, Gerontology and Human Development, she then dedicated the next decade of her life to as a Hospice Social Worker.  Continuing her education at Purdue Extension Office, earning a Master Gardener Certificate, has increased her love of outdoors and natural spaces.
After realizing the complexities of raising two children, she chose to focus on her family. Teaching by example has lead her to a life of volunteerism and advocating for social justice.  Volunteer roles have included organizing a peer support group for mothers and is Vice President of a parent / teacher organization.
Volunteerism has always been an integral component in her desire to be "The Change." Looking to live authentically, joining Save Maumee was a logical step in promoting concrete change.  Andrea was elected to the Board of Directors on November 5, 2018 and through her dedication and merit, was elected as Vice President Nov 4, 2019. She was then elected as President Nov. 4, 2020 and took her seat on January 1, 2021.

Vice President
Lauren Conklin

Vice President Term 2021-2023
Secretary Term 2018-2020
Lauren Conklin joined Save Maumee late 2016 and was elected as a Board Member on November 6, 2017.  Work ethic and dedication to social change combined with her "get it done, make it happen" attitude and actions, has not only contributed to river restoration work, but local community building.  Lauren is a Fort Wayne native and activist. She is passionate about the pursuit of environmental and social justice. After working 2017 Earth Day weekend, she was hand picked to work in New Haven, Nature Center.  As a New Haven Adams Township, Parks and Recreation employee, she maintained trails at Moser Park and selectively removed invasive species, while organizing and teaching students.  "Educating children about the importance of ecosystems, and helping them to understand their role in protecting the environment, will truly create positive change in the world." Through her time with Save Maumee, Lauren has completed the Hoosier Riverwatch Program and holds a certificate from Purdue University from the Indiana Watershed Leadership Academy. She now leads the invasive removal at the Rose Avenue Rehab property as project manager. She also represents Save Maumee while sitting on the board of the Maumee Watershed Alliance.
When Lauren isn't on the riverbank or working to improve her community, she is belly dancing, gardening, researching, travelling to national parks and new places in a big brown van, and spending time with her two cats and partner.
"I will either find a way, or make one." -Hannibal

Treasurer
Jain Young
Term 2013-2024
Jain Young holds a Master of Arts in Executive for Public Service from Ball State University. She has performed administrative nonprofit work for the Housing Authority of Fort Wayne, Indiana, Girl Scouts of Limberlost Council, the United Way of Allen County and serves as Administrator of Heartland Communities, Inc. She is currently the Project Manager of Plowshares Local Food System Project.