Save Maumee Riparian Buffer Initiative III
Jan 1, 2019 through December 31, 2020

Forestry Grant Narrative
through Great Lakes Restoration Initiative &
U.S. Forest Service funding for sites 7 through 9
PUBLIC EVENT OCTOBER 25 & 26, 2019 ~ 10AM-5PM
Come volunteer with us!
WEAR LONG PANTS & LONG SLEEVES AND REAL SHOES!
Location can be found by clicking here.
We began preparing this site in September to get ready for this tree planting!
Why Save Maumee's Riparian Buffer Initiative planting trees along the most degraded water quality streams in Allen County?
The Great Lakes Restoration Initiative (GLRI) was launched in 2010 to accelerate efforts to protect and restore the Great Lakes. Federal agencies have funded more than 4,700 projects totaling over $2.4 billion to address the most important Great Lakes priorities such as addressing agricultural nutrients and stormwater runoff, cleaning up highly-contaminated "Areas of Concern", combating invasive species and restoring habitat. Making GLRI funding available through a competitive application process is just one way that the GLRI achieves results.
Non-federal governmental entities, including state agencies, interstate agencies, federally recognized Indian tribes and tribal organizations, local governments, institutions of higher learning (i.e., colleges and universities), and non-profit organizations are eligible to apply for funding.
CURRENT WORK SITE TO BE PLANTED
PUBLIC EVENT
FRIDAY OCTOBER 25, 2019
&
SATURDAY OCTOBER 26, 2019
10am-5pm both days
RAIN OR SHINE
Upper Paul-Trier Ditch
PLANTING 29 DIFFERENT SPECIES ~ 480 TREES
Tree Species Selection: Yellow Buckeye, Ohio Buckeye, Bitternut Hickory, Shagbark Hickory, Northern Catalpa, Hackberry, Butternut, River Birch, Sweetgum, Black Gum, Quaking Aspen, Swamp White Oak, Bur Oak, Swamp Chestnut Oak, Chinquapin Oak, Pin Oak, Pussy Willow, Black Willow, Sassafras, Bald Cypress, American Basswood
Shrub Species Selection: Serviceberry, Spicebush, Ninebark, Elderberry, Swamp Rose, Aarowwood Viburnum, Blackhawk Viburnum, Nannyberry
These projects are made possible through the federal Great Lakes Restoration Initiative (GLRI) and U.S. Forest Service.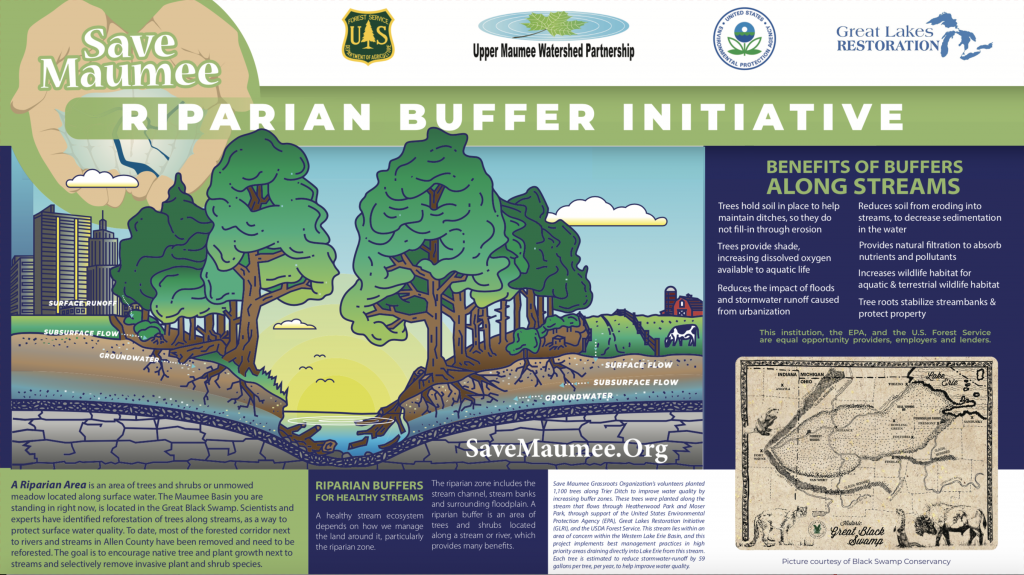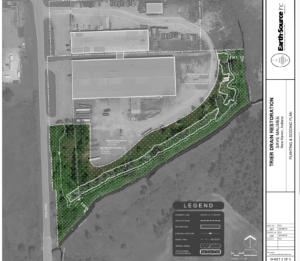 The entire project area for Paul Trier Ditch is over 1,055 linear feet (requirement of 1,000 linear feet) by at least 20 feet wide, with majority of areas over 30 feet wide, adding approximately, 2,198 square feet of added riparian buffer, yielding .05 acre of additional forested corridor along the Maumee River Trier Subwatershed. This historical zoned "industrial" area had heavy infestation of bush honeysuckle, callery pear and other invasive species that were removed previous to tree planting.
Save Maumee Riparian Buffer Initiative ordered & installed 600 bare root trees (requirement of 380 trees) in April and May of 2019, with invasive removal spanning April through June 2019.  Previous to the plantings, the tree line was almost nonexistant, with approximately 30 native full-grown trees on the entire lot.  The site is zoned "heavy industrial" and included gravel and fill dirt.  This site needed smaller trees (bare root) due to the industrial site having so much asphalt and gravel. We used 600 smaller trees, rather than larger 1-5 gallon potted trees, due to predicted high fatality rate of the smaller bare root trees.  Plantings were (on average) 1 every 6 feet or so. Total trees planted 550 Earth Day + 52 beginning of May = 602 total trees added to site (7 species).
SEEKING NEXT SITE FOR APRIL 2020:
Bullerman Ditch