Save Maumee Riparian Buffer Initiative III
Jan 1, 2019 through December 31, 2020

Forestry Grant Narrative
through Great Lakes Restoration Initiative &
U.S. Forest Service funding for sites 7 through 9
CLICK HERE TO SEE Save Maumee's previous Riparian Buffer Initiative Projects 1-6 from (2016 through 2018)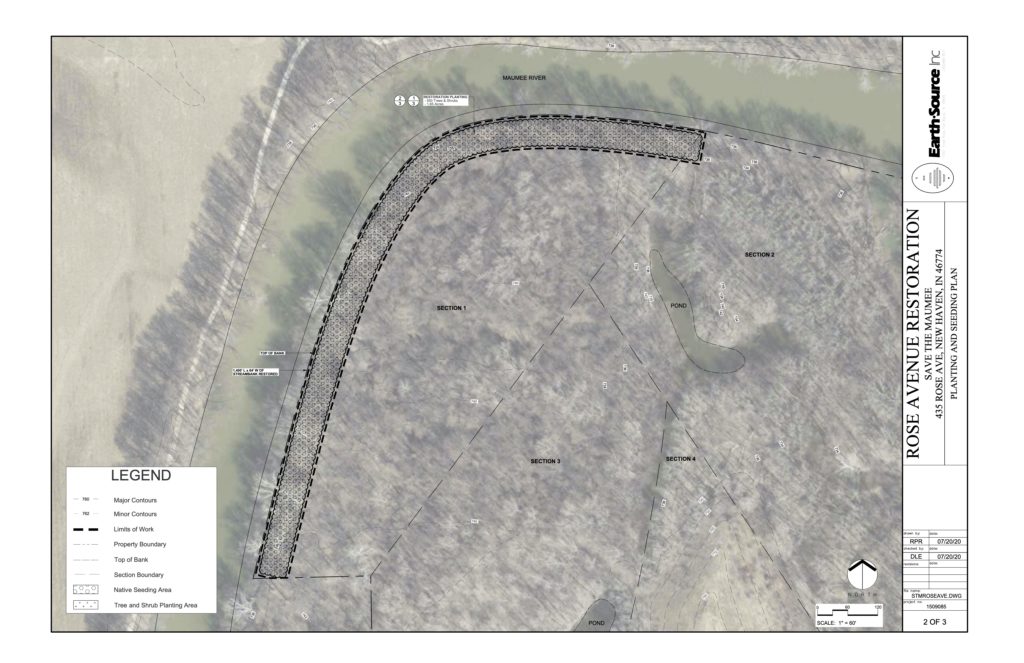 Why do ditches need plants and trees?  READ WHY HERE
Why Save Maumee's Riparian Buffer Initiative planting trees along the most degraded water quality streams in Allen County?
The Great Lakes Restoration Initiative (GLRI) was launched in 2010 to accelerate efforts to protect and restore the Great Lakes. Federal agencies have funded more than 4,700 projects totaling over $2.4 billion to address the most important Great Lakes priorities such as addressing agricultural nutrients and stormwater runoff, cleaning up highly-contaminated "Areas of Concern", combating invasive species and restoring habitat. Making GLRI funding available through a competitive application process is just one way that the GLRI achieves results.
Non-federal governmental entities, including state agencies, interstate agencies, federally recognized Indian Tribes and tribal organizations, local governments, institutions of higher learning (i.e., colleges and universities), and non-profit organizations are eligible to apply for funding.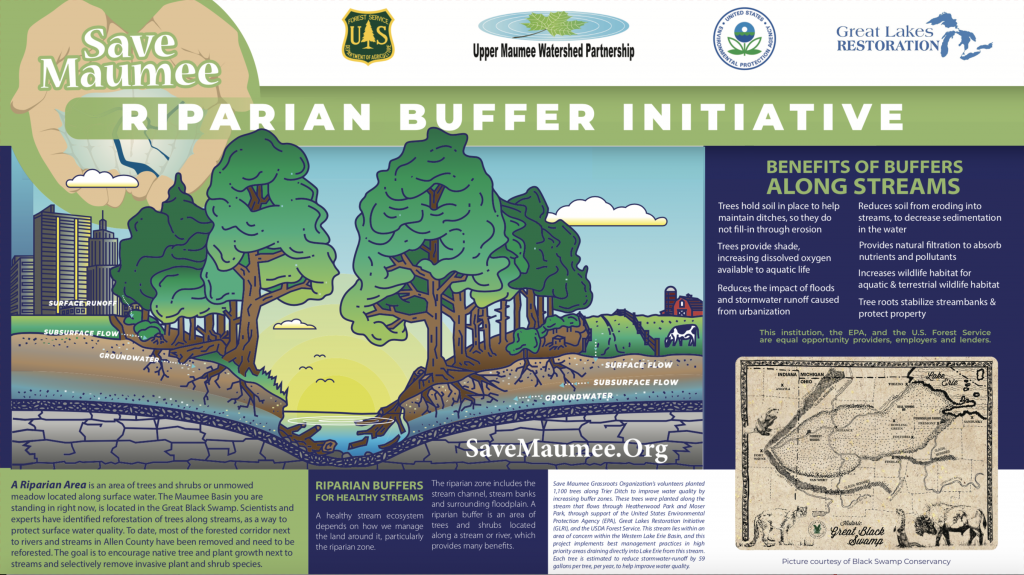 Metrics of 2 Riparian Buffer Initiative Projects 2019 (Year 1 of 2)

Total trees added: 1,084
Total linear feet along stream: 2,250LF
Total acreage of invasive species removed: >1.7 acres

 

(74,250 square feet) approx.
Gallons of Runoff Reduced: 63,956 gallons (1,084 trees x 59 gallons / tree)
Non-federal Match of Save Maumee volunteer hours alone: $44,364.65 (1,883.05 hours logged)
Site 1) "Meyer Road Site" Full Specification Information & Maps:
https://savemaumee.org/paul-trier-ditch/
Site 2) "Ellenwood Site" Full Specification Information & Maps:
https://savemaumee.org/end-of-ellenwood-drive_new-haven/
Background of Trier Subwatershed (HUC12: 041000050101)
                          (Trier Ditch Subwatershed HUC14: 04100005010030)
Trier Ditch HUC12 is in the Western Lake Erie Basin and remains on the U.S. EPA Indiana 303(d) list of impaired waterways and is considered "critical" due to lack of riparian buffers, urban land-use, CSO's and septic tank failures.  Trier Watershed itself drains 18,039.4 acres within Indiana.  The water from the Upper Trier Legal Drain flows northeast past "Ellenwood Site," then passes the April 2019 tree planting site deemed "Trier Road," and continues northeast past Waste Management of Fort Wayne/Adams Center Landfill to the Lower Trier Ditch. Both planting sites are less than 5 miles from the Maumee River's main stem.  The Maumee headwaters in Fort Wayne then flows east; through the political boundaries of the City of New Haven, Allen County and State of Indiana, eventually out-letting into Maumee Bay of Lake Erie in Toledo, Ohio. 
Full engagement and cooperation is necessary with County (Indiana) Surveyors Offices and the County Drainage Boards for current and future projects like this one.  Allen County Drainage Board worked to accommodate our project plantings on one side of legal drains and ditches, holding this governing body accountable to the Indiana Drainage Handbook. This has been an added benefit to streams served by the Riparian Buffer Initiative. 
Allen County Surveyors Office approved our tree plan petition with the condition the tree plantings be no closer than 5' from top of bank outward on the non-working side of the Trier Upper Drain.  Requirements include approval by a public meeting of the Allen County Drainage Board after engineering specification maps and signatures are provided on [form] Petition for Consent to Allow Permanent Structure, which was revised in 2019. 
Allen County Surveyors Office cooperating with our project plantings on one side of legal drains and ditches is necessary to increase stormwater retention, habitat and stream health. After working on RBI projects for 6 years, Save Maumee realizes that Allen County (Indiana) Surveyors Office and the Allen County Drainage Board (ACDB) are important to engage. Our particular ACDB and Surveyor need education on restoration/mitigation on the 2,500 miles of legal drains they continue to clear-cut. 
 "Ellenwood Site" adding 482 trees (1,200 linear feet by 40 ft. wide) planted in October 2019 and invasive removal prep. of 48,000 square feet over 8 weeks.
Volunteers logging 1,069.25 hours at Ellenwood between September-October 2019.
Two Riparian Buffer Initiative sites were completed in 2019, with 1 remaining site required to be completed in 2020. Invasive species continue to be a problem in all areas. Due to regular (to heavy) rain cycles this season, we purchased more invasive species removal supplies rather than watering supplies. Unwanted growth continues to be the #1 cost and time consuming portion of our land management techniques. Everyone wants to plant a tree, but selective invasive removal is more difficult and dangerous to the general public.  We may not be able to continue our projects in a future grant cycle without more paid help for selective invasive removal and oversight of volunteers. 
At the Meyer Road Site, bare root trees were used in April 2019 due to this industrial site having so much asphalt and gravel.  Smaller trees were used do to predicted high fatality rate at the rate (on average) of 1 every 6 feet or so. Even though the requirement for this site was 380 trees, 602 bare root trees were installed and the hole was heavily backfilled with seasoned mulch, but backfilling only a small amount of poor soil.  Donna Foster approved the change from potted trees to bare root trees on April 18, 2019 due to the lateness in receiving the grant award letter. Overall this did not impact the scope of the work. The soil was mostly fill dirt and gravel to raise elevation of this land, so smaller trees tend to do better and break up the clay and debris as they grow.  It was beneficial to not plant larger trees. Bare areas from invasive removal were seeded with native seed at both sites.
At the Ellenwood Site, planted in October 2019, had at least 30 years of untouched growth and took over 7 weeks to prepare an area suitable for trees. Larger trees were chosen and mulch was added properly after planting. Invasive removal of almost 2 acres at Ellenwood was the heaviest clearing of an understory that we have ever undertaken. It was necessary and a new forest was created! 
"Meyer Road Site" adding 602 bare root trees (1,050 linear feet by 25 ft. wide) planted in April / May 2019 and invasive removal prep. of 26,250 square feet.
Volunteers logging 813.8 hours at Meyer Rd. between April-May 2019.
Click HERE for event pics!
SEEKING NEXT SITE FOR APRIL 2020:
Bullerman Ditch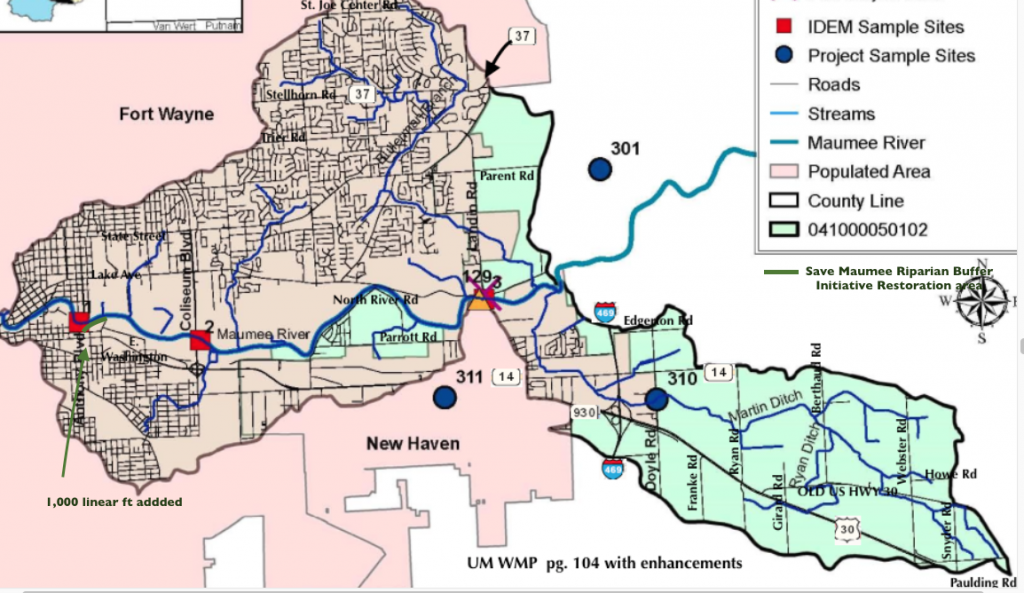 These projects are made possible through the federal Great Lakes Restoration Initiative (GLRI) and U.S. Forest Service.