Save Maumee's 12th Annual Earth DayS
…because one day is just not enough to plant 1,100 trees
Friday April 21, 2017 – Heatherwood Park – 11am-4pm
Saturday April 22, 2017 – Moser Park – 11am-5pm
Sunday April 23 – Heatherwood Park – 11am-3pm
ALL 3 DAYS: RAIN OR SHINE, Children Welcome, FREE
Download Printable Earth Day 2017 PDF
Friday April 21, 2017   11am-4pm
Heatherwood Park
1000 Hartzell Road, New Haven, Indiana 46774


Entire Trier Ditch Design Specs: CLICK HERE
____________________________________
Saturday April 22, 2017 ~ Main Event Day ~ 11am-5pm
Moser Park
601 W. Main, New Haven Indiana 46774

______________________________
Sunday April 23, 2017    11am-3pm
Heatherwood Park
1000 Hartzell Road, New Haven, Indiana 46774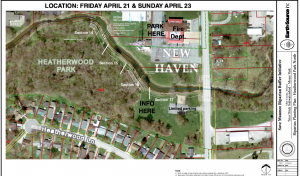 Entire Trier Ditch Design Specs: CLICK HERE
______________________________
Earth Day has always been Save Maumee's largest event, but this year we have so many trees to plant we need 3 days and YOU! 
Are you looking for an adventure.  Looking for something that is not the "average day?"  COME FIND US! Save Maumee likes to do work where others cannot easily see progress, but know we always have water quality improvements in mind!
FREE EVENT, but you may want to bring your checkbook for added fun for the whole family!
FESTIVITIES
Learn how to property plant a tree: 11am daily
Planting 1,100 trees over 3 days

Food NOT Bombs to feed volunteers
Tie-dye a t-shirt on April 22 (while supplies last)
Plant a tree in your name
BAND LINEUP
Saturday 22nd
Sad Gravity, Dan Dickerson & The Harp Condition, Breon Jones
Sunday 23rd
Kill le Kill, Kyle Haller & Company
Other Happenings To Be Announced
* March for Science 10am, April 22
* Old Crown Coffee will be served
* Snacks from Three Rivers Health Food Shoppe
* American Rivers, trash bags
*Sunday, Harley-Davidson of Fort Wayne to Lake Erie, MAUMEE RIDE ROUTE or find the ride on FACEBOOK: CLICK HERE

The areas that are in need of more trees and plants along perennial streams:
1) Bullerman Ditch (map)
2) Six Mile Creek (map)
3) Trier Ditch –  (map)
4) Entire Map of Maumee Basin in Indiana
This is our 3rd project that will be completed through the federal Great Lakes Restoration Initiative (GRLI) and U.S. Forest Service grant. Save Maumee and the USDA are equal opportunity providers, employers, and lenders. CLICK HERE for full nondiscriminatory policy.