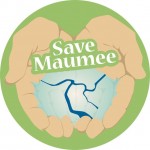 2022 Date TBA
     Harvest location: Meet at the big red barn
Little Rivers Wetland Project's, Eagle Marsh
ADDRESS: 6300 Engle Road   Fort Wayne, IN 46804
RAIN OR SHINE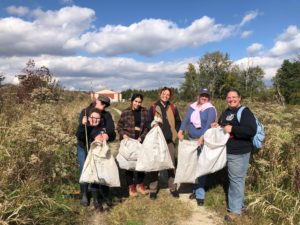 We will plant the collected seed on local riverbanks to reduce erosion and protect the diversity and strength of native plant species.
Look for us around the prairie! 
Wear long pants and durable shoes or boots (NO SANDALS) and appropriate seasonal clothing
Bring all friends, family and children!
Join us in October for our Annual Seed Harvest at Eagle Marsh! A huge THANK YOU to Little River Wetlands and Eagle Marsh for allowing us to harvest seeds for future wild areas!!
Learn the native plants and come pick them so we can plant them on the riverbanks! People are NOT allowed to take trees, plants, seeds or anything out of these areas, so Save Maumee is extremely gracious to Eagle Marsh for opening their home and giving us the opportunity to pluck the next generation of riverbank plants from these fields and plant them on the streams! We hope they will be preserved forever! Wild wonderful areas are becoming more and more scarce! Nature Preserves, State/County/City Parks and National Forests are there to protect and preserve land…"forever".
A very informal, yet informational and helpful event! Currently Save Maumee is paying over $650 for one acre's worth of seed! Help out your rivers…pick a few pounds!
Save Maumee has an approved DNR planting list for Indiana that we are very strict at enforcing. None of us want invasive plants to take root, and take over, but our rivers need foliage!  Remember, MOST of the forested corridor in Indiana have been removed….which is just one of our water's natural filtration device.  Up to 80% of a streams water quality is inherited at the headwaters!
We will plant collected / dried seed at future events!
What kind of plants will we be plucking? ~ Whatever that is harvestible (NOT GREEN) on this list: Don't worry….we will show you what is what!
Pictures from Seed Harvest 2015  or 2009
CUP PLANT (Silphium perfoliatum)
Common Milkweed (Asclepias syriaca)
BLACK EYED SUSAN (Rudbeckia hirta)
Joe-Pye-Weed (Eutrochium maculatum)
ROSINWEED (Silphium Integrifolium)
Compass Plant (Silphium laciniatum)
BEE BALM (Monarda fistlosa)
Ironweed (Vernonia fasciculata)
SAWTOOTH SUNFLOWER (Helianthus grosseserratus)
Fox Glove Beardstongue (Penstemon digitalis)
SMARTWEED (Polygonum spp.)
Big Bluestem (Andropogon gerardil)
Little Blue Stem
Turkey Foot Grass – (Tripsacum dactyloides)
Indian Grass (Sorghastrum nutans)
CANADA WILD RYE (Elymus canadensis)
Yellow Coneflower (Ratibida pinnata)
Grey Coneflower
Water Plantain (Alisma subcordatum)
False Sunflower
False Boneset (brickellia eupatorioides)
White Snakeroot (Ageratina altissima)
New England Aster
Smooth Aster
Daisy Fleabane (Erigeron annuus)
Anise (Pinpinella anisum)
Monarda/Bergamot
Button Bush
Common Sneezeweed (Helenium autumnale)
Wild Senna (Cassia hebecarpa)
Prairie Dock
Echinaecia
Summac
Brickles Sedge
Wool Grass (Scripus cyperinus)
Asa's Gray Sedge (Carex grayi)
Meadow Sedge (Carex granularis)
Crested Sedge (Carex cristatella)
Yarrow

We also collected from Plant Happiness ~ Nodding Pink Onion (Allium cernuum), Rattlesnake Master, New England Aster, Monkey Flower,
CLICK TO SEE OUR PROGRESS FROM OUR 2015 HARVEST!
What did we collect for SMGO Seed Harvest 2014?
CUP PLANT (Silphium perfoliatum)
Common Milkweed (Asclepias syriaca)
BLACK EYED SUSAN (Rudbeckia hirta)
Joe-Pye-Weed (Eutrochium maculatum)
ROSINWEED (Silphium Integrifolium)
Compass Plant (Silphium laciniatum)
BEE BALM (Monarda fistlosa)
Ironweed (Vernonia fasciculata)
SAWTOOTH SUNFLOWER (Helianthus grosseserratus)
Fox Glove Beardstongue (Penstemon digitalis)
SMARTWEED (Polygonum spp.)
Big Bluestem (Andropogon gerardil)
Little Blue Stem
Turkey Foot Grass – (Tripsacum dactyloides)
Indian Grass (Sorghastrum nutans)
CANADA WILD RYE (Elymus canadensis)
Yellow Coneflower (Ratibida pinnata)
False Boneset (brickellia eupatorioides)
Anise (Pinpinella anisum)
Monarda/Bergamot
Marsh Mallow was also collected from our Canoe Clean-Up in September 2014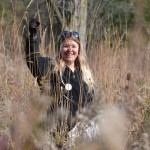 Value of purchasing seeds: