Canoe Trip 2014 Video Highlights
HALLOWEEN Costume Ball  October 31, 2014 at Wunderkammer Company
CLICK HERE for a description of the evening! OPENING, October 31st: "The Fall", "Bizarre Bazaar", and "Bush League"
This was an event that had been almost a year in the making, 52 artists came together to make the most Bizarre Bazaar in the Fall… A Fun_Raiser for Save Maumee with the help of our local art community!  Everyone wore their scary, silly, historic, cute, funny, political or celebrity, ridiculous or moth-ridden closet-wear costumes!  Plans for more great fun are coming together! Wonderkammer Company works to revitalize communities through contemporary art.   This will be one fundraiser you will not want to miss! FREE admission. FOR MORE INFORMATION CHECK THE FACEBOOK PAGE HERE!
---
Click to find out more about Save Maumee on the riverbanks with children and their parents from August through October 14th's Grand Finale….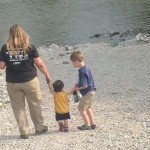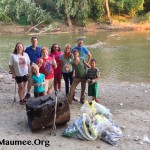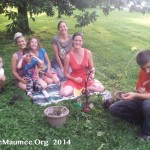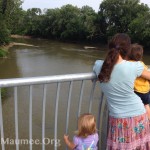 ---
October 14 – Tuesday 1st Annual Member Meeting 6pm
The 2014 Kids Summer FUN ends… on October 14th at our Annual Membership Meeting.  Location will be at Glasgow Avenue and Maumee Avenue at Memorial Park Pavilion ~ Members ONLY ~   so become a member today!
---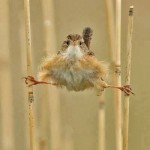 Little River Wetland Project from noon-4pm  – If you would like to see what we have harvested in the past and what we plant on local waterways CLICK HERE:

---
Fort Wayne Outfitters / Bike Depot –  11am – 3pm – Click link above for full details
---
September 3 – Wednesday
Save Maumee was featured as New Haven Farmers Market's Non-Profit of the week.  Support home grown and created goodies and join us next year for education and shopping at Schnelker Park, New Haven, IN
---

–
Historic Wells Street Bridge on Cass Street ~ YES it was the whole street!  Pyroscope Entertainment, Live local bands, Red Cross, CPR, MMA trainer for Martial Arts, Eagle Marsh/Little River Wetlands Project, YOGA, children's activities…and of course Save Maumee was out promoting local water quality!
Three Rivers Festival – Parade & Raft Race – July 2014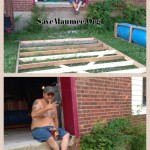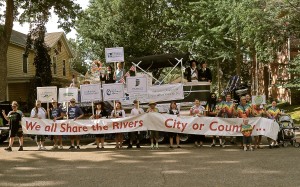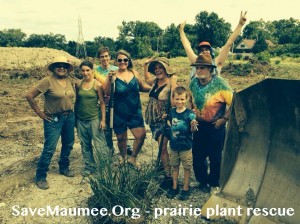 ---
Virgin Prairie Plant Rescue
This effort was arranged by LRWP & MVHC and Save Maumee Grassroots Organization. Groups worked together to assess this virgin prairie.  It has not been disturbed since white man populated this area.  Rescue was necessary to preserve the native species from this area and repopulate through seed distribution to other nature preserves to protect the integrity of the natives in the area.   The plants will be replanted in appropriate areas along the Maumee and its tributaries for Save Maumee's 9th Annual Earth Day in April 2015.
August 16 & 17th 2014 ~ MAP HERE:  behind Turnstone between Clinton Street & Spy Run Extended – this area was a Native American campground first, then became a pump station area for the Erie Canal!
This is a lesson in preserving our native species diversity, to make the plant lineage cross pollinate with current species along the rivers and nature preserves; making the native plants, stronger and more resistant to disease, flooding and drought.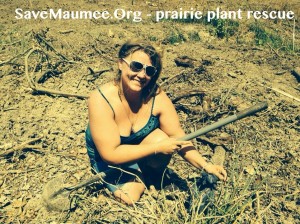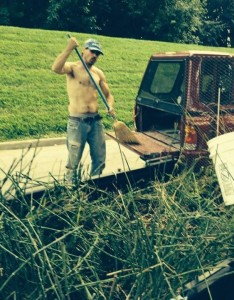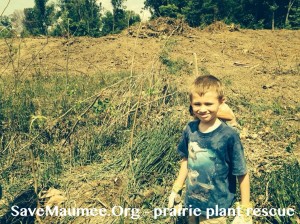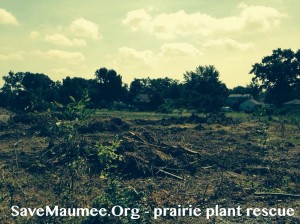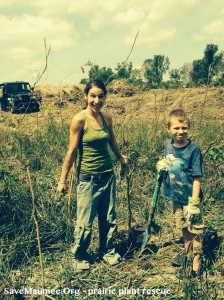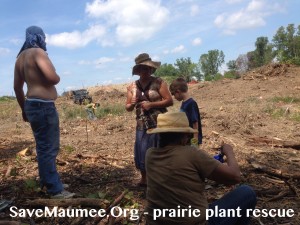 ---
Fox Island Sprint Triathlon/Duathlon Series 2014 -August 17, 2014
Save Maumee Board Members were there to talk to participants about the benefits of water quality in the Upper Maumee Watershed. For information on the Event: http://tristatetriathlon.org/fox-island-sprint.php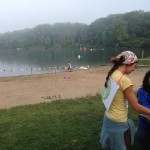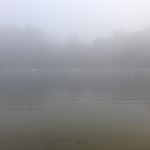 ---
New Haven Parks & Recreation –  August 23 – Children Program at  Schnelker Park, New Haven, IN – Save Maumee spoke to the participants at this FREE and FUN program! 
---
EARTH WEEK 2014  ~ READ MORE BY CLICKING ON THE PICTURE!