11th Annual Canoe Clean-Up, Can YOU Clean-Up?
SEPTEMBER 8, 2018
ALWAYS RAIN OR SHINE
Save Ma_mee ~ The only thing missing is U!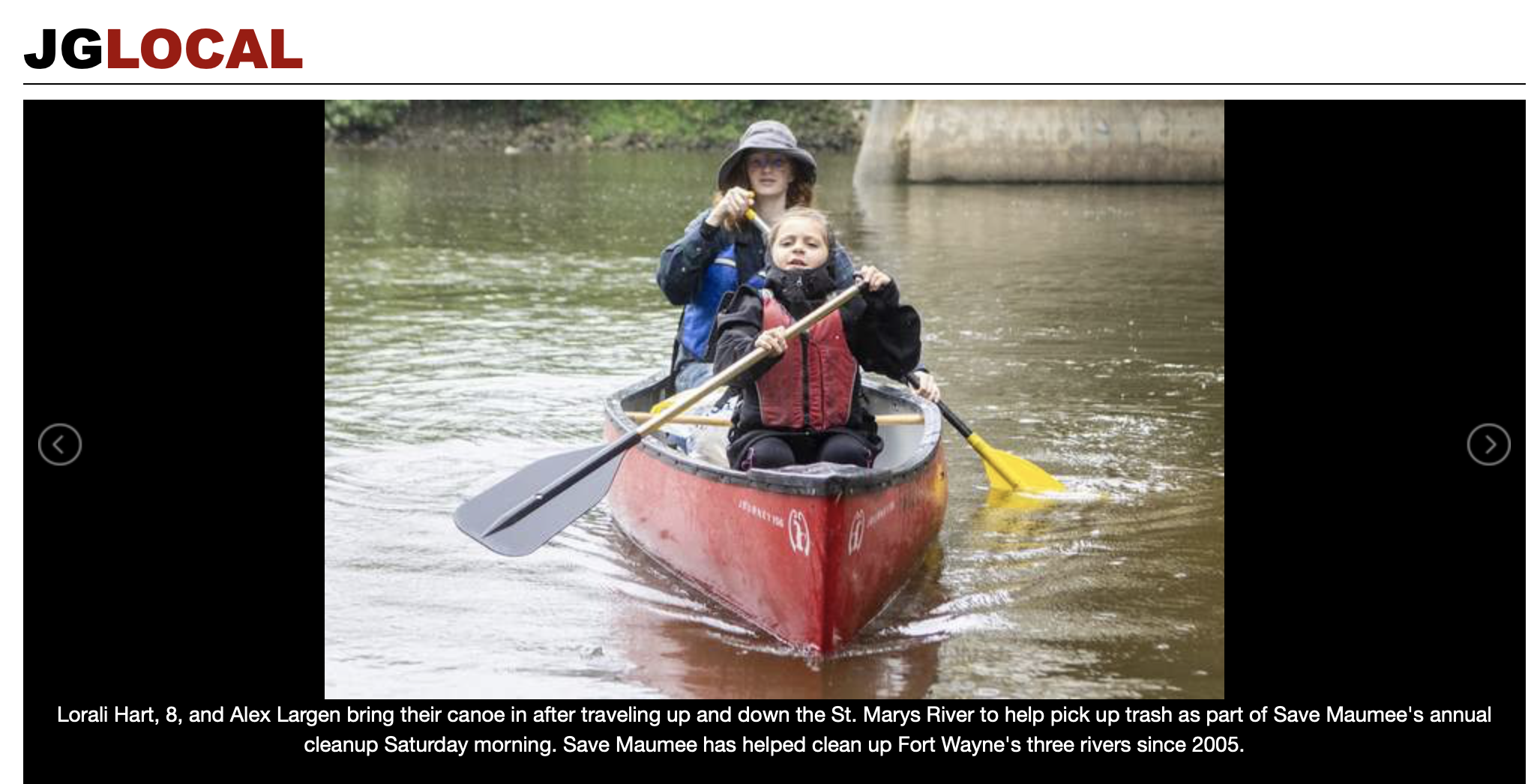 Sunday, September 09, 2018 1:00 am
3 dozen people help pull litter from St. Marys
The Journal Gazette
|
Some situations are simply unacceptable. That's how Abigail Frost-King sees it.
In 2000, she bought a house near Anthony Boulevard, a place with a backyard that bordered the Maumee River. The property map identified the area as Maumee riverbank, anyway, but Frost-King wasn't so sure.
"I thought I bought a house next to a dump site because there was so much trash," she recalled.
The president and founder of Save Maumee Grassroots Organization decided she couldn't count on anyone else to tackle the trash. She had to get involved. And she knew she would get more support from elected officials if she formed a group.
Frost-King and her fellow Save Maumee members spent a soggy Saturday removing debris from the St. Marys River and its riverbanks, the organization's 11th annual cleanup effort. Since 2005, the group has removed more than 32,000 pounds of trash from the three local rivers.
"This is kind of a fun event, because usually we plant trees and remove invasive species," which is harder work, Frost-King said.
About three dozen people participated by walking along the riverbank filling large plastic bags with trash and taking canoes out onto the water to remove items found floating there.
Lorali Hart, a third-grader, was in the first canoe out Saturday morning. The local 8-year-old found milk jugs, water bottles and liquor bottles floating in the water.
"It was a lot of plastic," she said.
Alissa Hart, Lorali's mother, said the pair have found some surprising things during their volunteer river cleanup stints in recent years.
"Once we found a meth lab," she said. "We called the police to come and get it."
Aaron Goulet has participated in the cleanup effort since 2011. The waters are considerably cleaner since then, when years of accumulated trash included discarded washers, driers and mattresses.
"The first few years we've done this, we were taking dumpsters (full) of trash out of here," he said. "And now we're down to a trailer" with trash bags tossed into the back.
Star Light, another volunteer, has an almost mystical relationship with nature.
"The coolest thing, you find, is if you pick up enough trash, the spirit rewards you with something you've been wanting," she said, describing finding discarded treasures.
Frost-King signed in volunteers Saturday and offered them coffee, doughnuts, bananas, juice and, she noted with particular emphasis, reusable water bottles.
"We do it because we care," she said of the river cleanup. "We want to be the example for others – and make it fun."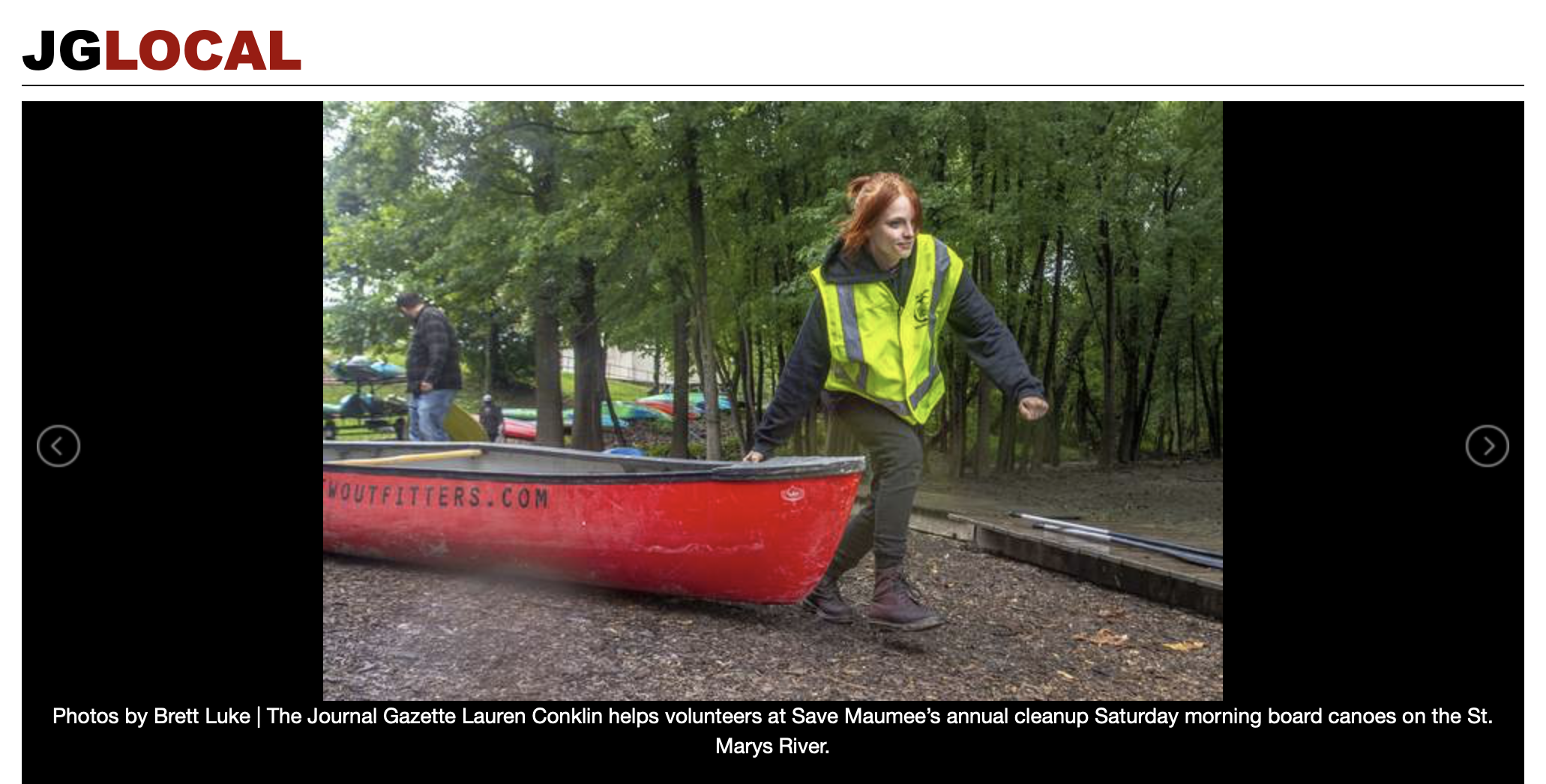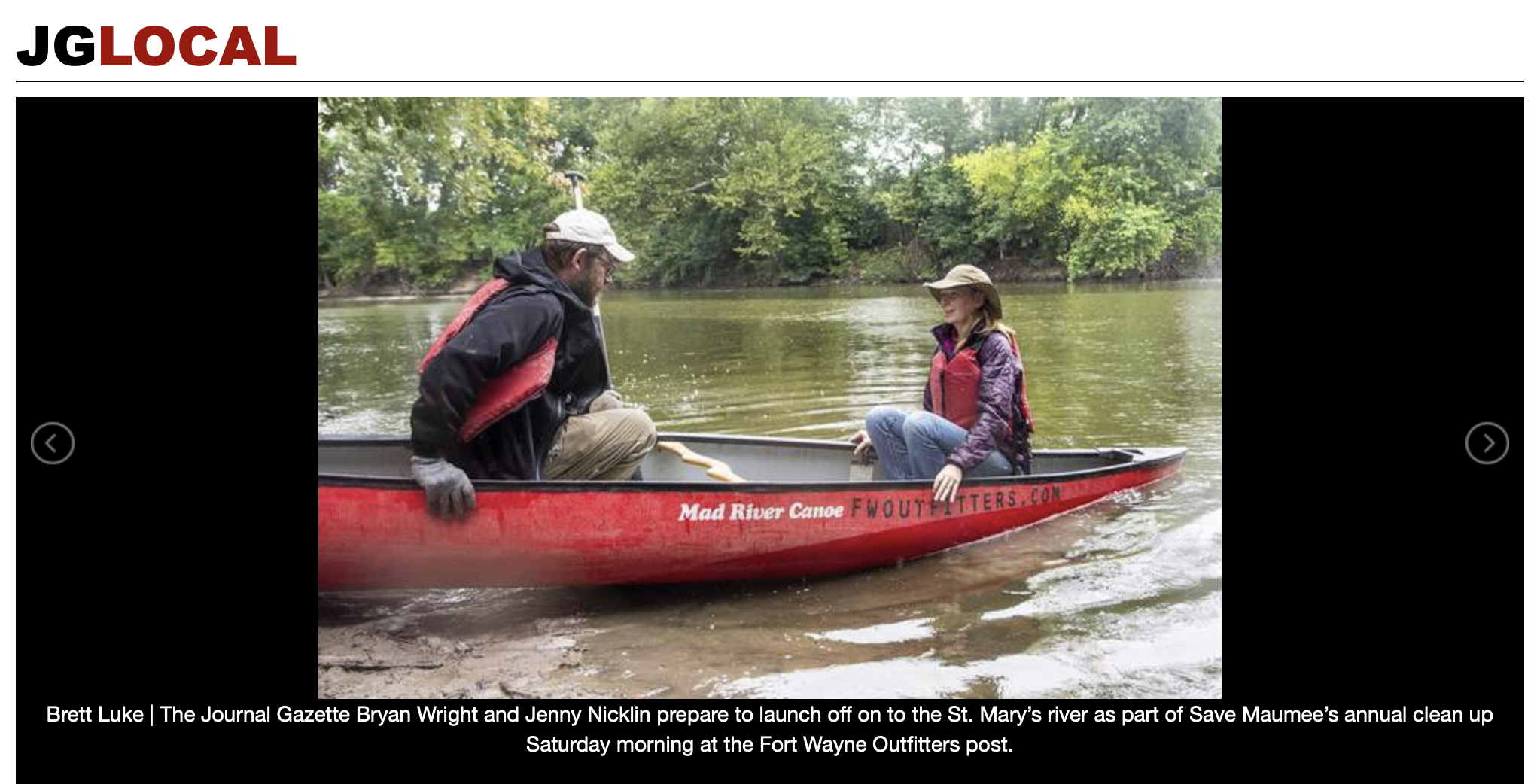 Sunday, September 09, 2018 1:00 am
Jet fuel leaks into St. Marys
8,000 gallons; cleanup closes roads
The Journal Gazette
|
Officials are cleaning up more than 8,000 gallons of turbine fuel that leaked into the St. Marys River in Decatur after a pipeline failed to contain the pollutant, officials said Saturday.
Cleanup started immediately after the leak was discovered at 5:17 p.m. Friday, according to Buckeye Pipe Line Co. L.P., which is responsible for the leak.
Booms were set up in the St. Marys River to contain the turbine fuel, also known as jet fuel. Several roads were also closed, including Monmouth Road near the city's wastewater treatment plant, officials said.
The U.S. Environmental Protection Agency said it is monitoring air in neighborhoods and businesses near the river. The EPA said it is also monitoring water quality at several locations downstream.
No fires or injuries were reported, Houston-based Buckeye Pipe Line said, and the pipeline will remain shut down until it is repaired and considered safe to reopen.
"One of their workers discovered a pressure drop, went immediately to check on it and immediately shut it down," said Bernie Beier, Allen County Homeland Security director. Beier was monitoring cleanup activities by several contractors hired by Buckeye at the Allen County-Adams County line.
Beier said that while the booms contained the pollutant so it could not spread, contractors were using hoses to vacuum the fuel off the top of the water.
"So the goal is to get as much of the product or the fuel off the top of the river before the rains get heavier, the waters rise and the currents get faster," Beier said. "When the water becomes more turbulent, anything off the top tends to get sucked down with logs, sticks and debris.
"And they're really making great progress, they're getting a lot of fuel off the water," Beier added.
Decatur Mayor Kenneth L. Meyer said crews worked through the night to clean up the spill. He said there was an odor in the air, "but it's not toxic." The cleanup could take weeks, Meyer said.
"Buckeye and its employees are an integral part of the local communities in which we operate," a statement from the company said. "Our primary concerns are protecting the safety of the public and the environment."
As crews were busy cleaning up pollution on the St. Marys River near Decatur, volunteers from the Save Maumee Grassroots Organization had their annual fall cleanup on the St. Marys near the Wells Street Bridge in downtown Fort Wayne.
Hearing about the fuel spill, Abigail Frost-King, president of the Save Maumee Grassroots Organization, thought of a West African proverb.
"Filthy water cannot be washed," she said, quoting the proverb. "I don't want there to come a time when things are too polluted that it may be too late."
"SAVE MAUMEE" CONSIDERS 2018 MOST SUCCESSFUL YEAR YET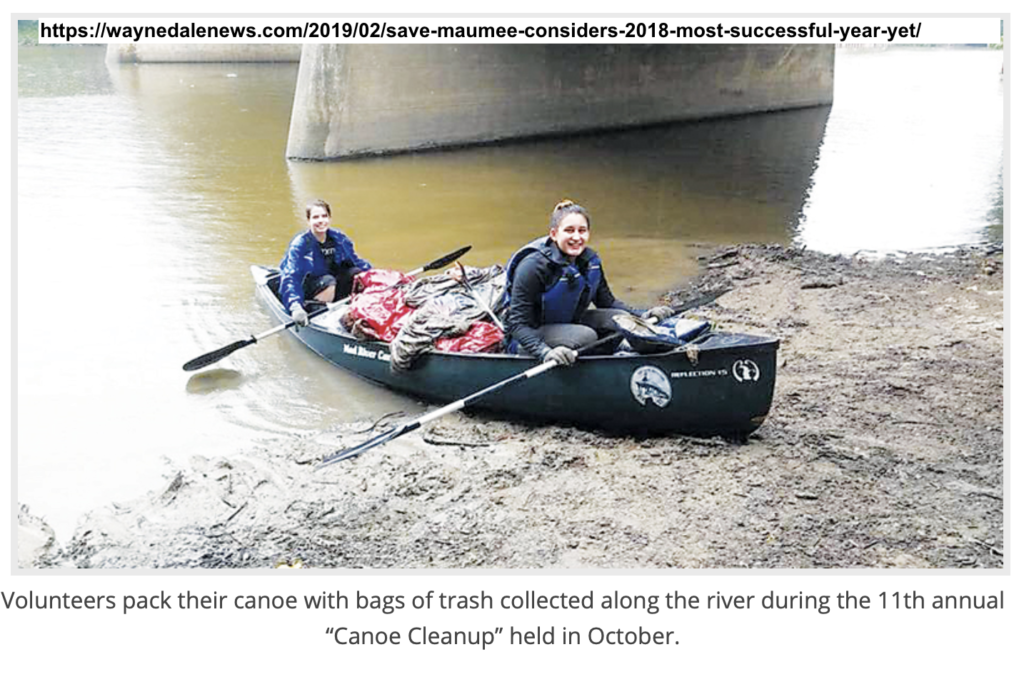 Save Maumee Grassroots Organization has completed planting 2,936 trees along 1.5 miles of streambank and submitting work reports from 2016 through 2018. The group "physically planted 2,936 trees, but trees are fragile life forms that don't always like how or where they were planted," says Abigail Frost-King, Save Maumee's President and Founder. "Reports have to be submitted to the federal funders, Great Lakes Restoration Initiative and USDA Forest Service. These Offices remain closed and workers are 'out on leave,' but our crew wanted everyone to see all the work produced by our local volunteers! Volunteers are our success story."
And it appears the group's work is working! Citizens, students and locals logged over 1,200 hours in 2018 alone! Lush Cosmetics also helped to fund several projects and promotional items to support the work because they believe in Save Maumee's purpose! Lush is extremely environmentally friendly and their money purchased things like reusable stainless steel water bottles, billboards, sweatshirts, yellow safety vests and vegetarian food!
If you would like to see the 2018 pictures of Save Maumee's 13th Annual Earth Day or 11th Annual Seed Harvest, or news coverage from the 11th Annual Canoe Clean-up, click on a few links. The state spends an estimated $8.6 million managing invasive plants each year, said Megan Abraham, an entomologist with the state. Indiana is to prohibit terrestrial species from being sold in the state. The rule would ban transporting, selling or soliciting orders for 44 plant species in Indiana, but has to pass Governor Eric Holcomb's desk. Invasive species remain a problem for Save Maumee as well. The group removed hundreds of callery pear with The Nature Conservancy, Sierra Club and New Haven Parks & Rec., with the groups spending thousands of dollars to remove invasive species in Deetz Nature Preserve alone.
Save Maumee has not received an award letter for the next GLRI approved project, due to the government shutdown, so public contribution to this fundraiser will be important. They encourage everyone to come out to the 14th Annual 2-Day Earth Day on April 22 & 23.
The groups next public event will be a fundraiser called Another Bazaar Evening on the Maumee. Ellen Bauman, Save Maumee's Bazaar event Organizer and Board Member said that, "Regardless of government funding, we have always been supported through MEMBERSHIPS and the kindness and generosity of strangers. We always work to stop things like deforestation, and to improve water quality for the entire Maumee Watershed… all the way to Lake Erie. We have so many supporters for the Bazaar Evening already!" She thanks all the donors and vendors and performers who will be selling their wares, performing onstage and sharing their gifts.
Lauren Conklin, Save Maumee Secretary and Event Organizer says that, "Save Maumee works hard during the outdoor season to plant trees, remove invasive species and pick-up almost 40,000 pounds of trash over the years. We want people to come ring in the New Year with a party on Saturday February 23. We want everyone to celebrate our successful 2018 summer, to show volunteers and their families a great time. This is how we say thank you for helping the Maumee River."
Another Bazaar Evening on Feb, 23, 2019 will be held at TekVenture located at 1550 Griffin Street from noon – 10pm. This fundraiser will not be one to miss with a gas pipe organ shooting flames, belly dancing, acoustic & electric local music, skateboard construction demo, make your own drum or treasure chest, food and alcohol, and impromptu performing. For more information on how you can help, please contact Ellen Bauman at 260-739-8748 or attend the next meeting on February 4th at Hall's Gas House at 7pm. SaveMaumee.Org/all-upcoming-events
Cleansing the St. Mary's riverbanks of garbage helps water quality in Fort Wayne and downstream

We did not distribute leftover chaff from Earth Day because this area is under construction for riverfront development. ("Chaff" is the the husks of grains and grasses that are separated during threshing, the membranous, brittle bracts of the flowers of certain plants – which contains between 10%-50% viable seed)

Donations are accepted not expected ~ $ helps to keep the fun flowing! Don't just dream about clean rivers…Come out & help….if not you….WHO?  FREE FUN FOR ALL!
Well, the good news is we will be back again next year and the year after that – to plant native riparian seed, clean up the banks of the St. Marys River to raise awareness about the conditions of our beautiful waterways.
Our projects heart & soul is in our citizen volunteers! The river thanks you from its bottom! Rivers NEED YOU!

Riverfront Development construction is underway!
FREE CANOE RENTAL WITH ID! From Fort Wayne Outfitters Bike Depot!