ANOTHER Bazaar Evening on the Maumee River will be
Saturday February 23, 2019
but the event advertised below was in 2018~ THANKS EVERYONE
Address: TekVenture Inc. 1550 Griffin Street, Fort Wayne, Indiana 46803
Located in the old River City Complex on the south side of the Tecumseh Bridge.
Save Maumee's ONLY FUNDRAISER FOR THE YEAR!
Save Maumee presents A Bazaar Evening for you along the Maumee River at TekVenture Inc.  ~ the 20,000 square foot, heated historic warehouse should hold many surprises the weekend after Valentines Day! So bring your sweetheart, and the family and show support for your local waterways! 
$8 at the door will enter you to get a door prize or two and access to everything at this large event!
WATCH THIS VIDEO FOR YOUR PERSONAL INVITATION TO OUR EVENT AND INTRODUCTION TO OUR WORK! 
Save Maumee plans to WOW you with another fabulous fundraiser to help protect water quality in the Maumee River and the 11 million people downstream!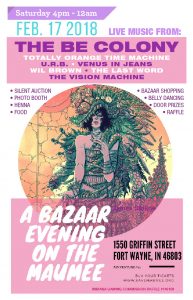 * 5 Bands ~ Featuring our headliner band, The Be Colony and special musical appearances by The Vision Machine, U.R.B., Wil Brown, The Last Word, Venus in Jeans, and Totally Orange Time Machine!
* Door Prizes
* Raffle Winners * Prizes drawn all night *  Need not be present to win *
* Art Show & Gallery, show brought to you by Wunderkammer Company
* Bazaar Shopping – awesome selection of vintage and hipster fabulousness
* Belly Dancing with Sorya Mahadia, Enchanted Hips
* Henna
* Photo Booth – Sue Sells 
* Local Vendors & Nonprofits
* Most delicious food on earth ~ Free Vegan Food Prepared by Jennie until gone
* Calhoun Street Soups, Salads & Spirits (CS3) – Catering Food & Alcohol
So bring your wallet, your kids, your friends and the neighbor…and don't miss this one!
State of Indiana Entertainment Permit #AE0234203
Indiana Gaming Commission, License #146100
THANKS TO TEKVENTURE FOR HOSTING THE EVENT AT THEIR MAKER'S SPACE!
 DOOR PRIZES:
#1 DOOR PRIZE Grand Prize: $240
Courtyard Marriott overnight stay, DeBrand's Chocolate & Country Heritage Winery Gift Basket.
#2 DOOR PRIZE: Work it out to get buff for the Maumee: $220
YMCA Membership, 3 months + Ft. Wayne Outfitters Bike Depot 2 person canoe rental, Earth Adventures water bottle and certificate, Henry's gift certificate, and Save Maumee sweatshirt.
#3 DOOR PRIZE: SOUTH WEST SUPPORTIN' the Maumee: $75
Spectrum Virtual Reality, Scotty's Brewhouse,  Salvatori's, Mocha Lounge
Special thanks to our donors for Raffle PRIZES!
Special thanks to our vendors!
Moving Art…In Time Windchimes Sandy Brockman
Star Light, Connie Ma, Hattie Moore
A.T.'s Attic
Kat Liddy w/ Jj+JV
Landers Crafters
Ja Art Studio