Save Maumee's Meeting Monday December 3, 2018 ~ 7-8:30pm and the group hosted Megan Butler from Riverfront Development for a Q&A at Mad Anthony's, 2002 Broadway & Taylor Street, Fort Wayne.  Megan called the group because she wants others to see the vision of Riverfront Development and wants Save Maumee and others to know that Riverfront Development is working on water quality issues.  Save Maumee is always looking to open communication to help create a more symbiotic relationship between people who work to improve conditions, because then we all win!
Ms. Butler says no question is off limits. 
Save Maumee has never been against Riverfront Development.  Our group was present when the Legacy dollars began funding plans of grandeur for our waters edge.  After attending the first two meetings in 2013, it was revealed that, "it is not within the scope of riverfront development to work on water quality issues."  So time passed and the public was heard and the agencies involved began to develop the plan and came to understand the fact that people want water quality to be considered. Save Maumee is concerned that the Riverfront Development Project is an example of what is happening all over Indiana and the Midwest. Natural spaces are disappearing and deforestation continues on rivers, streams and coastlines.
Where have all the forests gone? Most of the swamps and bogs have been drained to make way for the monoculture of corn and soybeans, but in the more developed region of our area invasive species are still planted on purpose.  Did our County's Comprehensive Plan grow dusty on a shelf and not fully implemented because it states that, "most of the forested corridor next to rivers and streams have been removed"?
These posed questions are not directly related to our own riverfront development, and cannot be blamed on riverfront projects, but still point to underlying symptoms of why water quality in the State of Indiana is comparatively lower than almost every other state.
The Riverfront multimillion dollar project is lucrative to investors and the next riverfront area is eyed for "their very own piece of the river," to be sold to the public, generating income.  There never seems to come a time where economic dollars become less important than nature.  In the future, others who own property along riverfront will see their property profitable as well…but only if it is developed.
Dan Wire is doing a great job at battling the invasive species in the 2 miles of Riverfront area, but that does not mean these spaces will remain protected.  Trees and wild spaces are not considered lucrative by the Chamber of Commerce, and outside city limits the invasive species take over the last of the wilderness a little more. Heated sidewalks are considered for riverfront, while the native beaver populations are considered a nuisance because of their lack of habitat.
Where are the protections for air, water and soil? Protections exist in the State of Indiana, but Indiana is routinely chosen over other regions for dumping because our standards for the environment is low.  Indiana routinely relaxes water quality standards below EPA guidance standards.

Indiana allows variances to be issued that relax water quality standards, and consequently permit conditions to meet standards, in instances where such a loosening of applicable requirements would not be permitted by the Guidance. Therefore, these provisions of Indiana's submission are not consistent with the Guidance.  
So then it should be no surprise that Indiana has 927 toxin-releasing facilities.  Indiana alone is discharging 18.5 million pounds of toxic releases into our waterways, with the metals industry leading the way and agriculture fertilizer close behind.  Isn't Steel Dynamics a major sponsor of Riverfront?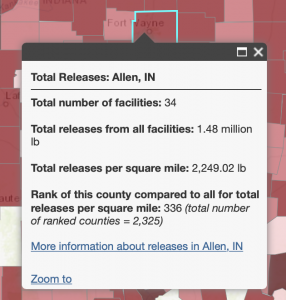 Save Maumee's Riparian Buffer Initiative has been working to remove invasive species and reforest the most degraded water quality ditches and streams in Allen County. However, Allen County Surveyor, Jeff Sorg continues to clear trees on both sides of the 2,500 miles of streams and other government agents look the other way because, "It's not my job."  Sorg is an elected official who is responsible for keeping water flowing in our 2,500 miles of moving surface water, but he is not using the scientific and regulatory guidance that is laid-out in the Indiana Drainage Handbook.
Help protect vegetation – How politics are related to protection
SAVE MAUMEE'S SIMPLE GOAL: One side of all ditches and streams should be left naturalized with desirable native vegetation. The opposite and more easily accessible side can be used for large equipment to gain access and "dip the ditch" when it becomes clogged with tree debris or fills up with sediment.  Of course we all understand that sometimes large problematic trees need to be removed OR both sides of a ditch needs to be cleared; but this is the EXCEPTION, NOT the RULE.  This is common sense.  Supporting articles here: https://savemaumee.org/ditch-easements-need-vegetation/
We all have more in common than we don't.  Megan Butler and the other Riverfront Implementation Committee people are doing a fabulous job of what they were hired to do.  Save Maumee does not claim to have all the answers, but we do question those people who do, and take action when we can.
Right now Save Maumee is working to plant 1,390 trees along almost a mile of riverbank in the most degraded water quality ditches in Allen County.  The group is working with a grant from the USDA Forest Service through the Great Lakes Restoration Initiative, to protect waterways in Lake Erie and remains an equal opportunity provider, employer, and lender. Full Civil Rights Disclosure.  Save Maumee recently completed planting 2,780 trees along 1.4 miles of these ditches and streams and will continue to be outspoken about water quality issues and ready to help with the tired volunteers we have! Here is information about the last 4 years of our work.
So when Save Maumee wants to ensure the protection of diverse species and the most fertile soil in the U.S.A., we are not being nay sayers or hating the idea of development, we just want to know when will nature come-in-first and income take a back seat to value.  This may be the reason Indiana remains in the top 5 for toxic releases in the U.S.A. for 10 years…because we don't want to sacrifice the bottom dollar.
It is very important that we all work together, but mindlessly following direction of what we are TOLD is important is still up for debate.  It is very difficult to improve environmental conditions by only improving economics, at least that is what it looks like to those of us who believe in climate change.  Urgency creates will-power and action.
If you miss this meeting, please attend one of these Riverfront Meetings or by calling Megan Butler at 260-427-6248.
Monday, February 11, 6:30-8:00 p.m. Hop River Brewing Company
Our Muddy Rivers: Water Quality, Cleanups, and more
Monday, March 11, 6:30-8:00 p.m.
Building Our Future: Phase 1 Previews and Phases 2&3 Plans
Monday, April 8, 6:30-8:00 p.m.
Party on the Riverfront: Events, Programs, Tours
---
National Archive fed register Identification of Approved and Disapproved Elements of the Great Lakes Guidance Submissions From the States of Michigan, Ohio, Indiana, and Illinois, and Final Rule  Using excerpt pg. 36
2016 Toxic Release Inventory Data (State of Indiana) & (Allen County)
Allen County's Comprehensive Plan, Plan-It Allen
 City of Fort Wayne's Final Riparian Management Plan
United States of Toxins, Priceonomics 2016